Tag Archives:
dorm room
Raising Furniture above the Room
Creating of space in the dormitory has been a challenge for most students often used to their big rooms back at home. The available space to be utilized by each student is always limited. Actuators are developed to solve these problems. They eliminate the manual movement of desks and chairs in the room, bedding, lockers, shelves and the kitchenette within the room. Space is also very essential to the dormitory as the activity of a full house take place within a single room comprising of more than one individual. Therefore, there is a need to move the furniture or raise them above the room to create more space for different activities. Automated actuators make the movement effortless and unproblematic.
Convertible Furniture    
Actuators have ensured a space saving furniture that is invented to satisfy the needs of students in the dormitories. The design of convertible hidden wall beds made possible by linear actuators that ensure a space saving hideaway that tuck into the wall. The tucking leaves behind simple shelves or desks that allow the students to enjoy their study comfortably.  Actuators can be attached to the desks allowing their movement from one place in the dorm to the other, the beds than can be folded back into position when it's time to rest. Other beds can easily be converted to a desk and used for studies.
Raised dormitory bed to create space for learning
The kitchenette
According to progressive automations linear actuators service, the kitchenette can be automated by actuators to be raised and lowered according to the will. The automated kitchen cabinet can be raised above the room to create room for other functions such as washing dishes.  The cabinets where foods and utensils are stored and the tables used for cooking within the dormitories can be stored safely in the command of a remote control. The kitchen cabinet, therefore, provides the advantage for people with different heights or the disabled to be able to cook and still retract the kitchen for other functions easily.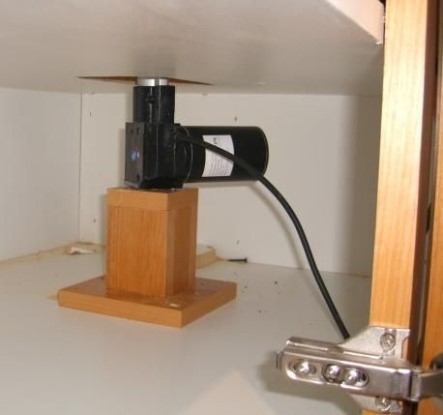 Kitchen cabinet that can be raised above the ground using attached actuator